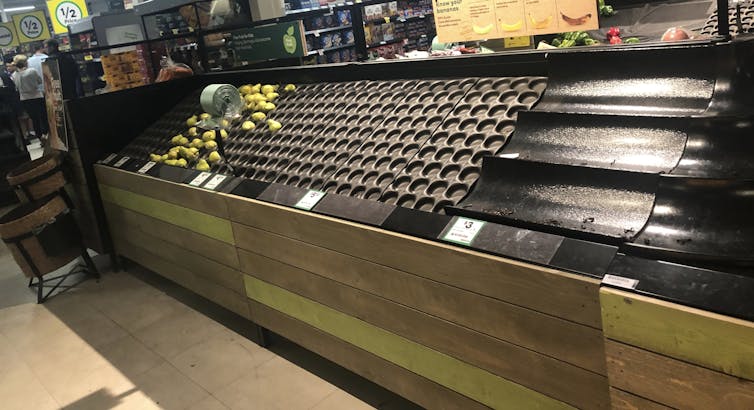 Empty shelves at Woolworths' Bermagui on the morning of December 31, after residents were evacuated.Photo: Nicole Hasham
All this raises inevitable questions. To what extent is climate change driving these fires, and how much of that is Australia's fault? Do we need a permanent, paid rural fire-fighting force to deal with this "new normal"? Are our fuel, food and communications systems resilient enough to cope with these disasters? And how do we cope with the deep anxiety these fires provoke, on both a personal and societal level?
On New Year's Day, the wind having blown the fires away from Bermagui, officials opened a road out.
They warned us to leave now before conditions changed again. We had just under half a tank of diesel, and neither Bermagui nor the next town, Tarthra, had supplies. We drove on. No diesel at Bega either, until a local told us of a truck station on the outskirts of town where we filled up.
The trip home was slow and smoky, and phone reception patchy. It struck me how vulnerable we are to technology and transport systems that can so easily shut down. We tried in vain to buy a paper map in case of detours, but no service stations stocked them.
Our three-year-old son grasped little of what was happening. I suggested a game of I-Spy, but it was soon abandoned – the smoke meant there was nothing much to see. We drove through blackened landscapes where sheep wandered paddocks with the wool burnt off their backs.
My son, sensing the mood, asked why his dad and I were so quiet.
In the days after we arrived back in Canberra, air quality was more than 20 times above hazardous levels. Shops and swimming pools were closed, and mail deliveries were cancelled. A woman reportedly died from respiratory distress after exiting a plane to a tarmac filled with smoke. Babies were born into smoke-filled hospital theatres; their parents despaired at what the future holds.